Top 10 Investment Portfolio Apps to Download
Business Knowledge Today, 6 months ago
9 min

read
138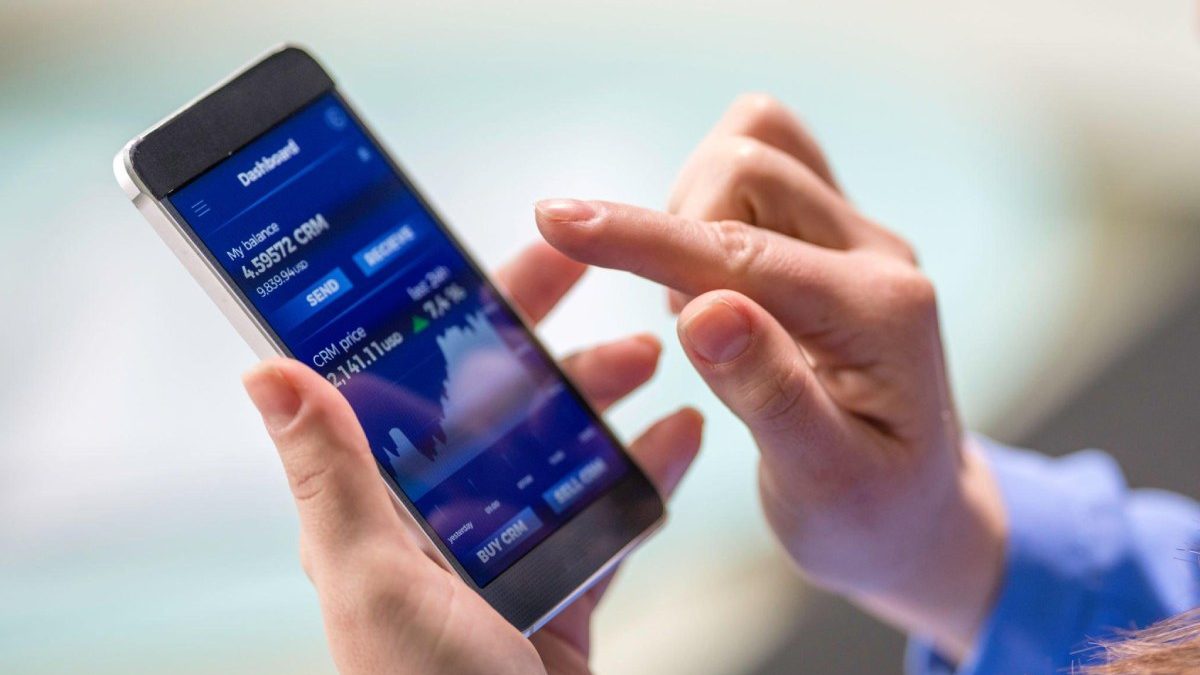 Somewhere in the neighborhood of one hundred and fifty million Americans are now investing, with the global stock market cap hovering around the $90 trillion mark. Undoubtedly, interest in trading securities is returning to a pre-2008 level, and the rise of software that assists in this practice has a lot to do with this investing resurgence.
Portfolio/trading/tracking apps have become all the rage post-2020. That is so despite the fact many have been around for years. Be that as it may, the worldwide COVID pandemic cast a spotlight on the vital nature of investing and ensuring future financial stability. Today Millennials and Generation Z members are super curious about the stock market and how they can set a stable path forward to retirement. One of the quintessential utensils to help them on this journey are investment portfolio apps, as they have attributes that make reaching financial goals easier than ever. Below, we rattle off what most veteran traders would rank as the ten best ones in no distinct order.
1. StockMarketEye – Top-End Portfolio Tracking
According to many, StockMarketEye is the most trusted and easy-to-use portfolio management software out there, the premier option for tracking investments. Its reliability should not get questioned, as it has been around for more than a decade and a half, the brainchild of an independent software developer that only goes by the name Nick. He designed this app as a straightforward tracker/portfolio manager that aims not to break the bank and be a handy assistant for all.
StockMarketEye stores data locally on a user's computer, but the information can be shared via an integrated online sync service with anyone. For top-end tracking, this software makes multiple backup versions to return to. It also offers the ability to slice/dice a group of investments in various ways, pull up quotes automatically, and has excellent and flexible reporting, with first-class responses from its Help Desk every time. For casual investors who wish to keep a close eye on their trades, this is the stock tracking software download to initiate and get set up on your device. There should be no hesitation about that.
2. Sharesight – Unique Tax Reporting Options
Sharesight is an Australian financial software that, in the past, was primarily used to target self-directed investors. It is the creation of the son-father duo of Scott and Tony Ryburn, who came up with this app in the mid-2000s, trying to create an instrument to help the common folk, meaning DIY investors. Over the years, it has evolved dramatically, adding breadth and depth to its robust functionalities. The most impressive of these is its tax reporting on diverse ranges of holdings such as stocks, cash, ETFs, and beyond. It has quite innovative features, even ones that allow users to set their tax residency and the end of the tax year.
Many like that this app has the option to monitor cryptos, yet, most also complain that this is only available for eight major digital coins. So Sharesight is not in tune with current market demands. Still, its beginner-friendly interface, well-optimized mobile app, and customizable tax reporting with flexible filing dates make Sharesight a top pick for every level trader.
3. Kubera – Best for Crypto & Multi-Currency Holding Monitoring
Even though Kubera got up and running only a few years ago, 2018, to be exact, it has quickly become a sleek piece of software that oversees billions of dollars in trades. It syncs with over twenty thousand brokerages and banks and excels at monitoring the movements of cryptos and holdings from foreign countries.
Kubera often gets praised for calculating super-accurately the rate-of-return of trades, boasting Fort Knox–grade security, supporting nearly every global currency, and featuring a high-value exclusive community of traders on its Discord channel. Users can utilize this app to estimate the value of their car, get prices on metals like gold and silver, look up the value of their home, and get other precious insights from multiple asset classes.
4. Invstr – Offers Quality Investing Education
Invstr seeks to bring financial knowledge to the masses. Its goal is the financial empowerment of individuals, helping everyone make smarter investment decisions. Such skills can be attained by Invstr users through the no-risk virtual trading this software, launched in 2013 by Kerim Derhalli, offers. To trade stocks for real, users must get the premium plan, which expands their access to this app. Nevertheless, it also opens them up to varying service fees, so be aware.
Invstr has an 85-lesson investment course and unlimited fantasy finance features. It also delivers commission-free trading for cryptos and US-listed stocks. It is the perfect choice for anyone looking to learn more about trading and curious about starting to invest. The chief downsides of this listed portfolio manager are that it provides somewhat limited functionality, and its support avenues are email and in-app messaging.
5. Robinhood – Premium Discount Broker
In early 2021, the GameStop short squeeze occurred, with Reddit users pushing up the value of this company's stock price substantially. That was primarily done via Robinhood, which boosted this app's notoriety significantly. It now ranks as the most used trading app, with around sixteen million active traders. Block's Cash app charts in second place in this category, trailing dramatically behind, with an estimated user pool of 4.8 million.
Most people love Robinhood because it has a smooth interface and allows them to avoid trading commissions. It also has no account minimum, lets users trade cryptos, and features an option that permits traders to take part in the company's IPO, initial public offerings, something previously reserved for institutions only. Robinhood should improve its customer support, add mutual funds and bonds, and lower outage instances. Nonetheless, for active casual traders, it remains the top choice. That goes without saying.
6. Ellevest – The Finest Choice for Socially Responsible Traders
What is socially responsible investing? It is a practice, or investment tactic, that seeks to create decent financial returns via security trading. Yet, also attempts to generate a positive social change in this money-making venture. Ellevest offers two tiers of service, both targeting women, implementing a unique algorithm that accounts for the longer lifespan of the female sex, their more likely career breaks, and the pay gaps they will probably face. It factors women's needs and aims while featuring a la carte sessions with coaches and CFPs.
It is a manager best suited for those who wish to do as little on-hand trading as possible and like to explore value-based investing. Note that Ellevest falls short for many users in one district department. And that is that it has no tax-loss harvesting, a feature that most of its competitors have included in their software bundles.
7. Webull – The Most Apt Pick for the Budget Mobile Investor
Webull is a New York-headquartered holding company incorporated in the Cayman Islands for obvious reasons. In many ways, this app has taken multiple cues from Robinhood, focusing on catering to mobile users via a simplified, clean interface that is not as naive as it may first appear. Webull has diverse charting options, with multiple technical indicators and several state-of-the-art customization options, and it receives market data from credible and fast sources (Nasdaq TotalView, Morningstar, and Dow Jones). All this has gotten neatly packaged into one sleek platform, into an investing tool that supplies access to over forty cryptos and standard securities. It does the latter with no per-contract options fees.
Sadly, you cannot trade in mutual funds via Webull, though this is one of the few brokerage software that delivers free options trades and has in-depth charting capabilities.
8. Acorns – A Robo-Advisor with Superior Saving Features
Robo-advisor is one of the more popular synonyms for software portfolio managers. It is the one that media outlets like Forbes prefer. Acorns is a financial services and technology company operating out of Irvine, California. It was established in 2012 by the Cruttenden family to promote passive and incremental investing. Since its inception, this service has expanded its offerings, including IRA retirement products and checking account services.
One of the top causes Acorns has gotten so much traction is that it allows users to get cashback at hundreds of retailers. Its portfolio options are open to a well-diversified mix of international and domestic bonds and stocks, Bitcoin-linked ETFs, and REITs. Unfortunately, Acorns has no tax strategy options and can have high fees on small account balances. It is best for those struggling to save and want to manage investment portfolios by implementing a more hands-off approach.
9. Betterment – Excellent Auto-Investing Functions
Betterment is a top robo-advisor, no doubt. It has gotten renowned for its premium plan for account minimums of $100,000, where users get access to certified financial planners who supply them with tailored advice via phone whenever they need it. That said, everyday investors get to use Betterment's automated portfolio service for $10 to start, paying a management fee per asset of 0.25% to 0.40% annually.
Betterment has various portfolio customization options, allows fractional investing, and offers tax-loss harvesting. Plus, it provides automatic rebalancing. These are goal-based features that retirement investors love and are willing to pay for here, despite Betterments' lack of direct indexing, which they consciously overlook. Like many of its competitors, this software also champions modern portfolio theory, emphasizing the importance of diversification.
10. Seeking Alpha – Best for Leveraging Data
Wall Street employees may be familiar with some perks a service like Seeking Alpha boasts. However, until recently, run-of-the-mill everyday investors were not. The amount of information this service can provide is unparalleled, and the software is super easy to navigate thanks to the intuitive and straightforward interface.
The brand, Seeking Alpha launched in 2004 and almost instantly became one of the world's most-visited stock research resources, generating over twenty million visits monthly. Its daily data dump gives a wealth of information to users that help them intelligently guide their investment choices. The service has more than ten thousand monthly articles, IPO analysis, stock ideas by sector, and advice on securities that should increase in value in the long term, ones that few people are paying attention to and buying. Premium members get to customize their dashboards to show news that falls in line with their investment strategies, and Seeking Alpha premiums can see the track record of those submitting trading ideas while also taking advantage of the service's proprietary Quant Ratings system that uses a high-end methodology to suggest what stocks should get purchased, and what must get sold. Those are just some of the features presented in this software/service. We have not even gotten into the earnings calendar, valuation performance metrics, podcasts, daily newsletters, etc.
Related posts