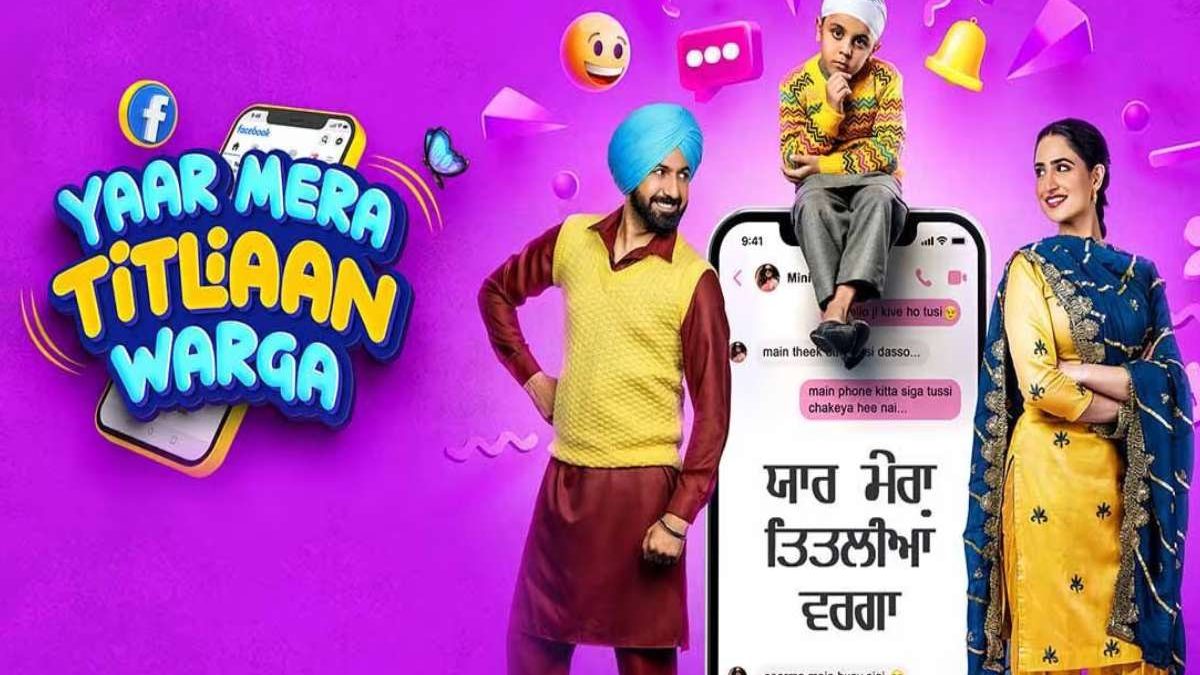 Yaar Mera Titliyan Warga Movie: A married couple Gurmel and beant who get bored after six years of marriage of each other. To get attension back and things up, they individually create fake socialmedia accounts  but end up befriending each other.
Yaar Mera Titliaan Warga is an Punjabi language Comedy-Romance movie directed by Vikas Vashisht. Featuring Gippy Grewal, Karamjit Anmol, Tanu Grewal, , and Raj Dhaliwal as lead characters. The film is written by Naresh Kathooriaand and the composition (music) is by Jay K, Desi Crew, & Mix Singh. Film is produced by Humble Motion Pictures in association with Omjee Star Studios. The Yaar Mera Titliaan Warga movie will be released on 02 September 2022.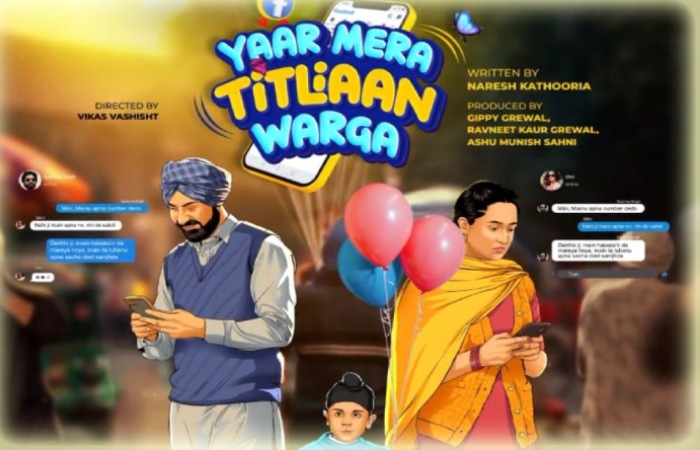 | | |
| --- | --- |
| Director | Vikas Vashisht |
| Producer | Gippy Grewal, Ravneet Kaur, Ashu Munish Sahni |
| Executive Producer | Hardeep Dullat |
| Written By | Naresh Kathooria |
| Dialogues | Naresh Kathooria |
| Music | Jay K, Desi Crew, Mix Singh |
| Edited | Rohit Dhiman |
| Cinematography | Sukh Kamboj |
| Production Company | Humble Motion Pictures |
| Genres |  Comedy, Romance |
| Release Date | 02 September 2022 |
| Running Time | 2hr 21min (131 minutes) |
Yaar Mera Titliyan Warga Movie Trailer
Also Read: Pathan Movie HD Download 2023
Yaar Mera Titliyan Warga Movie Story
Beginning with the most important thing; the story of the film. Yaar Mera Titliaan Warga is a film that revolves around a couple. Gippy Grewal and Tanu Grewal play a couple in the film who are married for almost 6-7 years. They have a kid, and eventually, with time, they both develop some space in between them. While Gippy craves love and attention from his wife, Tanu on the other hand drives all focus toward her son.
Disappointed Gippy then looks for other ways to once again add warmth and fun to his life. His friend (Karamjit Anmol) advises him to join social media to make new friends. Gippy went on to make a fake profile on Facebook to chat with more girls. On the other hand, Tanu's friend (Raj Dhaliwal) also suggests she follow the same way to teach Gippy a lesson.
This is followed by both Gippy and Tanu joining Facebook with fake profiles. Eventually, they end up talking and developing a close bond with each other. While Gippy madly falls in love with the girl he chats with on Facebook, little did they both know that they are actually talking to each other. So how does this complicated love story reach a conclusion? What happens when they both realize that the person they are talking to is none other than their better half only? How will they react? To know, you have to watch Yaar Mera Titliaan Warga in theaters near you.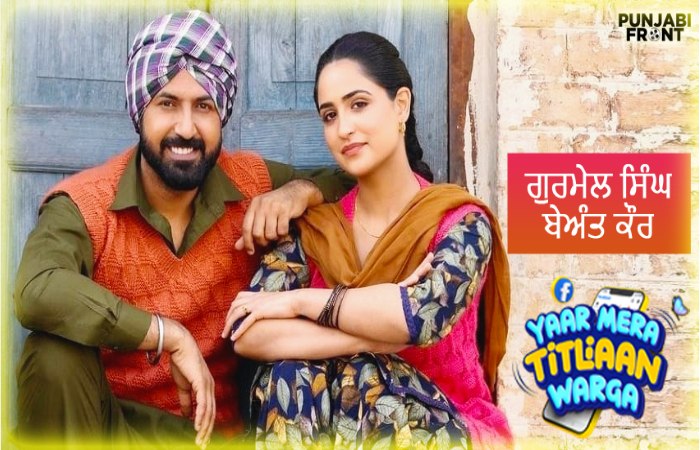 The Movie Available on OTT?
The OTT platform Zee5 is currently one of the biggest OTT platforms with varied content. However, the film 'Yaar Mera Titliyan Warga' won't be available on this platform as nothing has been announced by the makers. But the movie is available on Amazon Prime.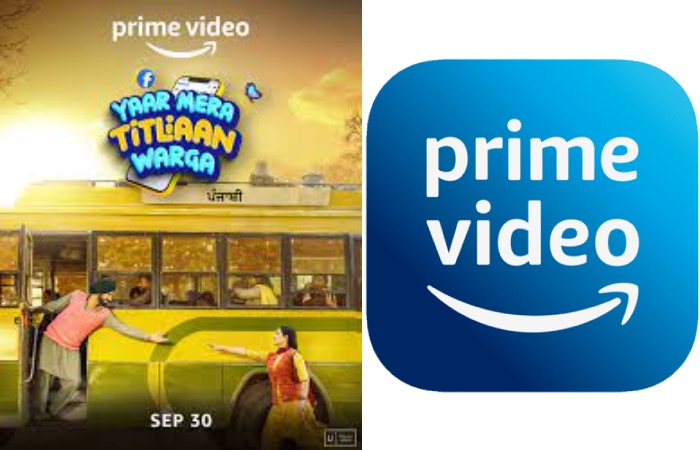 Acting & Performances
Let's take the Yaar Mera Titliaan Warga movie review by analyzing the performances in the film. The film stars amazing actors like Gippy Grewal and Karamjit Anmol, whom we never had any doubt upon. Apart from these, we also get to watch great performances by Tanu Grewal and Raj Dhaliwal.
While Gippy Grewal and Tanu Grewal are the lead pair of the film, Karamjit Anmol and Raj Dhaliwal have played pivotal supporting roles. Starting with fans' all-time favorite Gippy Grewal, he was fantabulous in his role as usual. Like, we cannot even doubt Gippy's performance even for once. He is so natural and entertaining in the role of Gurmal Singh. Tanu on the other hand has aced the emotionally strong character of Beant in the film. She did a great job in the given screen time, but we wanted to see more of her connect with her emotions strongly.
But we cannot deny that Karamjit Anmol was the show stealer in the film. Not because his role was extraordinary or because he had something very unique to do. But in the simple role, he impressed the audience with his expressions and unbeatable dialogue delivery. So, if you ask us, whose performance we liked the most in Yaar Mera Titliaan Warga, you know what our answer is going to be.
Concluding the performances by applauding Raj Dhaliwal for her role. She played Beant Kaur's friend who unintentionally misguided her. Yes her character seemed annoying in the film, but this is what proves how well she did her job. She, in the role of a not-so-perfect friend, was so effortless that we actually believed she is the one behind all the chaos in the film. And for doing such great acting, we all praised her.
Dialogues & Music
A big part of any film's overall vibe is based on its dialogues and music. And the same is the case with Yaar Mera Titliaan Warga. Yes the film surely had some low points, but what saved it was the balance of comedy and drama in it. Everyone around enjoyed when Karamjit Anmol was handed over the duty to spread a laughter wave in the cinema hall.
But we indeed feel the dialogue of the film could have been better to uplift the film overall. Also, talking about the film's playlist, honestly we did not fall in love with it. It was only Nava Nava Pyaar that added charm to the film's plot. And the film's background score was also quite average.
Script & Direction
After all the goods, here we are on the weak aspect of Yaar Mera Titliaan Warga. The film's concept was good, relatable, funny and impactful. And it could have been really good, but it didn't turn out to be really perfect on screens. The film's screenplay was stretched and the film was too slow to be real. It was a 1 hour 50-minute film, but it could have chopped off some extra minutes.
At points, it felt boring and for it, we blame the slow screenplay of the film. Sometimes all we need is not funny dialogues and songs coming our way. And now, talking about the directorial debut of Vikas Vashisht, we are impressed with his debut job. Though he could have also refined the film's slow screenplay with better direction, we wish him luck for his future projects.
Related Searches
yaar mera titliyan warga wikipedia
yaar mera titliyan warga /vegamovies
gippy grewal new movie yaar mera titliyan warga
yaar mera titliaan warga child artist name
Movie yaar mera titliyan warga movie download telegram link
yaar mera titliyan warga singer
Also Read: Yomovies Watch online and Download HD Movies Bollywood, Hollywood, Web series
Related posts