Successful Communication Strategy – Stages, Different Steps, and More
Business Knowledge Today, 2 years ago
6 min

read
314
The Stages of a Successful Communication Strategy
Successful Communication Strategy – All the communication plans, so well prepared in 2019, were questioned with the health crisis and its corollaries, the confinements. Today on the eve of 2021, it is essential to build a communication plan that anticipates the different scenarios that are looming and allow the company to bounce back.
In the digital age, no one today questions the need for a company to communicate. Communicate to make known and sell its products and services, develop its image, increase its activity or create and develop its relations with its customers, suppliers, service providers or partners.
However, faced with time and budget constraints, the first instinct of the business manager is often to think about the means and communication tools to be implemented before defining his communication strategy.
However, Successful Communication Strategy, a well-thought-out strategy makes it possible to position its communication as closely as possible to the needs and expectations of its potential customers, to convey an image and a message that they understand and that affect them. But also make the right choices regarding communication tools and media to avoid unnecessary expenses.
The Essential Questions to Ask
Several questions will, therefore, necessarily have to raise before each communication campaign:
1. What are the communication objectives?
2. What is the target?
3. What is the message?
3. What image does it have?
4. What is the positioning of the company relative to its competitors?
5. All these questions and, of course, their answers make it possible to define a precise framework for each planned communication campaign.
Defining a communication strategy also makes it probable to structure and coordinate the various actions or media that will be implemented and to have, upstream, a global vision of all the efforts deployed over the year (press, advertising, website, e-marketing, events, etc.) to control the periodicity, the budget and the execution.
As you will have understood, successful communication requires, above all, a well-defined communication strategy.
What are the different Steps to Follow?
1. Define Your Communication Objectives
The first step will be to define your communication objectives.
Is it about making yourself known?
To prospect?
To attract new employees?
And also, to retain your customers?
Several campaigns or communication media may be necessary to meet these different objectives. Because concentrating on a single problem is often the rule of effective communication. However, a well-done campaign can, on the contrary, respond to different issues.
2. Identify your Targets
Communication is, above all, the transmission of a message from a sender (your company) to one or more receivers (your customers, prospects, partners or prescribers).
Communicating, therefore, consists, for you, in clearly identifying your communication targets. To deploy means of communication precisely adapted to their expectations. And to only address people potentially interested in your brand, your products and services.
The target of a company can be multiple: its customers, its partners, its suppliers.
Ask yourself the question.
Who do you want to educate? Your customers? Your prescribers? And also, Your partners?
It is by aiming correctly that you optimize your budget and that you can define appropriate actions.
But defining your target is not enough. It is also necessary to know it well: to know its sociological profile (age, sex, profession, socio-professional category, geographical sector), to know its needs and habits (behaviours, values, aspirations, type of consumption, preferred media)
3. Position yourself in your Environment
What is your Environment?
Who are your competitors, and how do they communicate?
How long has your business been around?
What is his image?
How do you need to position your company in its Environment?
Do you want to strengthen or correct the image of your company?
What are your competitive advantages?
Your strengths?
Your weak points?
So many questions to ask yourself to define your communication framework properly.
4. Use the SWOT Method to carry out your Reflection
Moreover, a simple and effective method is to apply the SWOT method (AFOM in French: strengths, weaknesses, opportunities, threats). It makes it possible to reveal the strengths and weaknesses, opportunities and threats at each level and thus brings out the decisive variables on which it will be the most relevant and the most effective to act.
5. Formulate your Message
What message do you want to convey?
What do you want to say and affirm to your different targets?
How would you like to convey your message?
In this context, a rule to remember: a clear message conveying a single strong idea will be the most impactful.
6. Analyze the Human and Financial Resources of your Company
Therefore, it is compulsory not to forget to analyze the possibilities of your company in terms of human resources and financial means to be mobilized within the framework of your communication strategy.
Have you planned a budget for the realization of your communication campaign?
Could one or more resource people or HR management system, for example, mobilize internally to coordinate communication and monitor the smooth running of actions?
Do you have the means to delegate your communication campaign to an external service provider?
So many essential questions will be taken into account when defining the tools and actions to be carried out.
7. Define the Appropriate Means of Communication.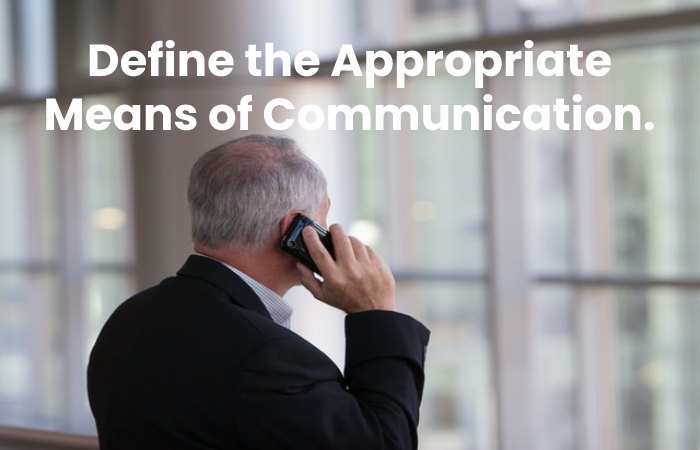 Once you have defined your objectives, your target, the context in which you operate, your message and the lines of communication to be developed, as well as the means at your disposal, you can think of the tools best suited to your communication strategy. : e-marketing materials rather than displays, a website rather than an institutional brochure, etc.
8. Establish a Communication Plan in this Time of Crisis
The last step, the communication plan, lists and plans the actions recommended by the communication strategy. Taking the form of a schedule, it will allow you to record the activities to carry out, their periodicity, the timing and duration of each action, the resource persons to be mobilized within your company and outside (communication agency, freelance service provider, printer, etc.), the budget associated with each action.
However, the communication plan will allow you to view the different tools. The other steps to put in place are the schedule to respect the implementation of your communication strategy, the time to devote to it, and the human and financial resources associated with it.
Lastly, don't forget to evaluate the effectiveness of your communication and be attentive to feedback from your salespeople, customers, suppliers, and social media, blogs, or forums.
Also Read: Educational Justice – Definition, Objectives, Imperfections, and More 
Related posts